BODEA CRISTINA: MY STORY
In 1982 my beloved aunt, Ms. H.Kramm-Veith, presented me with a very small red hair flock with a shattering personality.
It's name was UFO STAR AUS SPIELZEUGSCHACHTEL (GELSOMINO) and together we started this wonderful adventure that I share today with my adored SPITZ.
In 1990 First MALTESI "dei CONTINI" arrived from Giupi Michelone that I remember with gratefulness and affection and together with my friend forever, Bianca Tamagnone, they revealed me the tenderness of this race.

A serious mourning left me alone and it forced me to yield all my Maltesi; now with my adored Spitz I'll try bravely to continue living only for them. In memory of my husband Gianni, that always helped and supported me in this marvelous part of my life, and who certainly he would like to see me calm, maybe with my dogs and my beautiful cats I'll find the reason to go ahead with Maliusinky. With them and for them, maybe one day I'll be able to see a shining sun ray in my life.
The sun is shining again for me, after a lot of pain and loneliness... Happiness is now at Maliusinky's home: when I started thinking that life would not give me anything important I met Emidio!! A loyal and honest person that fell in love with me and my heterogenous tails...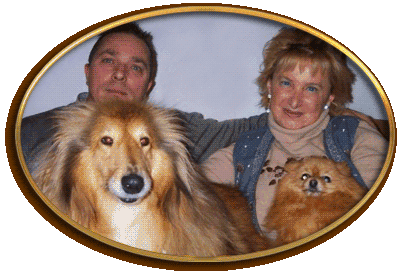 And now I remember the words of a famous singer: "When you think that everything is lost, it's time to go up to the light of hope..."
With Emidio we will continue to select our races, but above all we'll continue to love our "children"... Life is wonderful!!!